Pre-Insulated Panel System Enclosures that protect equipment and personnel from the environment
Meter Stations
Pump Stations
Odorization Shelters
Industrial and Special Applications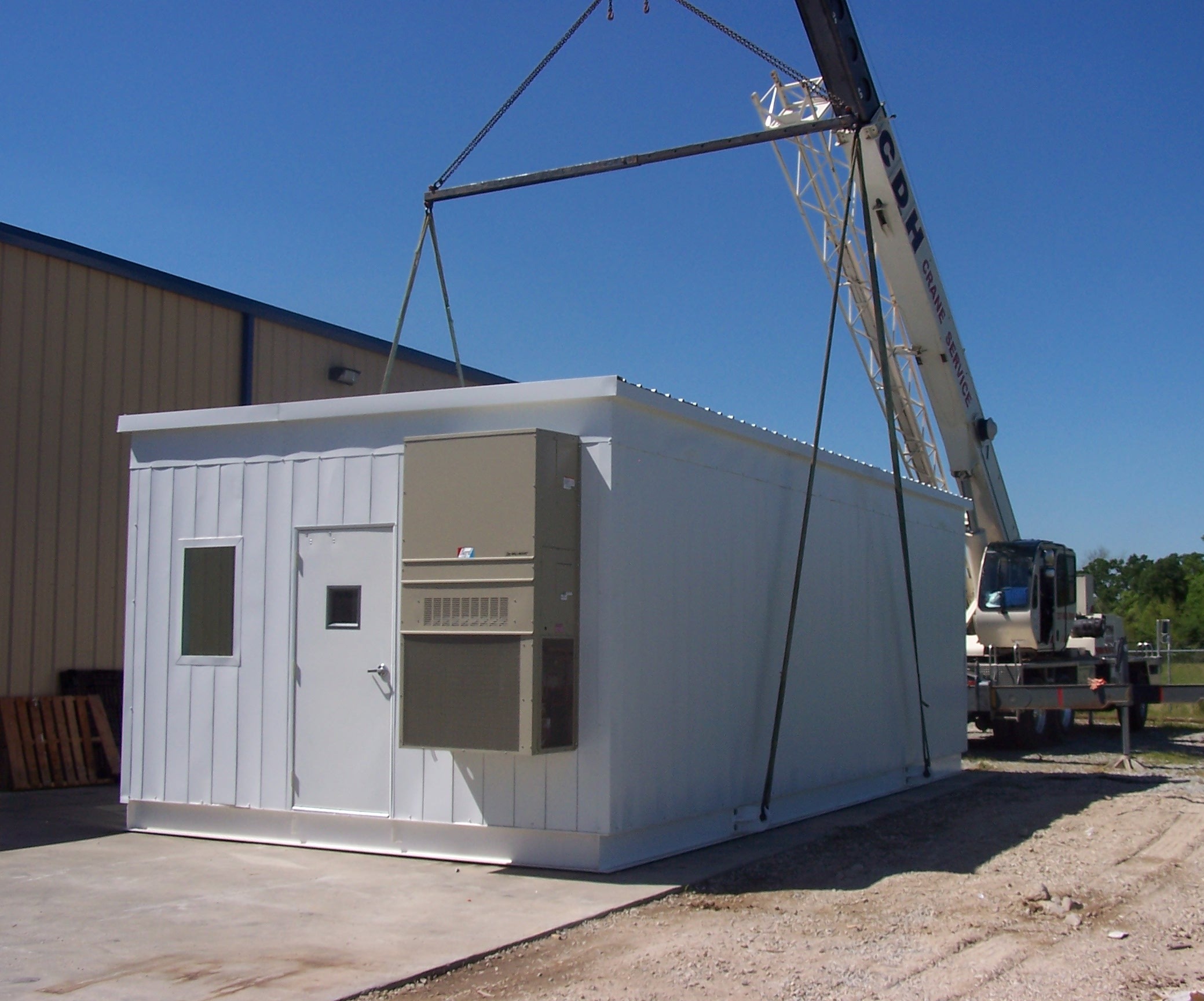 Why Step-Ko Insulated Enclosures?
Excellent structural capabilities
In-house design and engineering assistance
Custom designs and AutoCAD
Best insulating material UL class 1, Non CFC ENVIROFOAM that will save energy cost and meets most building codes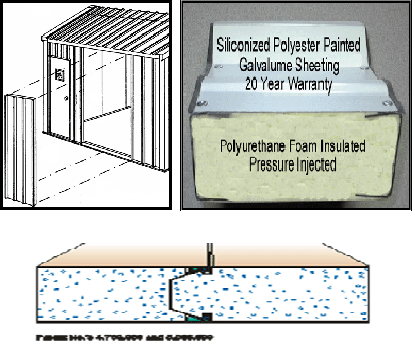 Modular structures are all custom designed to fit the individual customers' needs. Each panel consists of an interior and exterior metal pan with structural wood frame, steel rail and high density foam rail frame. These pans are separated by rigid foam-in-place self extinguishing urethane insulation which adheres to the interior of the pans providing increased structural strength. All panels have tongue and groove construction and a sealant gasket is applied to all joints forming an air-tight seal. Each panel is secured together using a state of the are cam locking fastener system that allows access to tight each panel while maintaining a smooth exterior and interior surface.
NSF Certified
U. L., Class 1 listed urethane foam insulation in Step-Ko Products enclosures.
FM4880
USDA Approved Materials
Meter Station Buildings
Odorization Buildings/Cabinets
Pump Station Building
Telecommunication Shelters
Gas Utility Enclosures
Industrial Applications
Battery Cabinets
Backflow Preventer Shelters
Available electrical packages by licensed electricians
Steel and Aluminum Skids
Diamond Plate Base Flooring for Sturdy Equipment Installation
Palletized panels ready for shipment for Field Assembly
Optional exteriors:
Metal, FRP, Cement, or Stone Aggregate Panels
Architectural Specifications

Standard insulation is foamed-in-place Non-CFC U. L. Class 1 rated urethane foam. It has a thermal conductivity (K Factor) of .120* BTU/Hr/Sq. ft/Degrees/F/in. and overall heat transfer co-efficient (U Factor) of not more than .030 BTU/Hr.Sq.Ft.
Class 1 urethane foam has a flame spread of 25 or less overall. Wood frame panels available in 3.5½ and 5½ thickness. Foam rail and steel rail panels available in 4½ or 5½ thickness. Other thickness available by request.
26 gallon Bright Stucco embossed galvanized steel
Standard colors available are white, black, and almond
FRP
Cement Board
Stone Aggregate and texture finishes
24 gallon Stucco embossed galvanized Steel
24 gallon 304 Stainless Steel #4 Finish
Standard Designs & Features
Designed for local wind load requirements
Designed for local seismic zone requirements
Pre-hung doors and framed openings
Reinforced openings
Special doors, locks, and panic hardware
Special reinforcement openings
Membrane roofing system
Shed-style roofing systems
Gable roofing systems