AssureaKote™ Poly Coated U-Bolts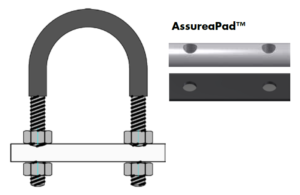 Step-Ko Products AssureaKote™ coating technology is a special proprietary coating that has superior temperature and physical properties when applied to various types of u-bolts. The AssureaKote™ coating provides excellent protection from corrosion by preventing metal to metal contact between the u-bolt and piping. The AssureaKote™ coated u-bolt is very versatile and can be used in many industries including but not limited to pipelines, refineries, chemical plants, offshore platform, rigs, paper mills, and in marine applications.
Step-Ko Products keeps a wide variety of sizes of AssureaKote™ u-bolts in stock for immediate shipment in standardized box quantities. All the AssureaKote™ U-Bolts in sizes 24" and below are packaged in a strong durable poly bag with the u-bolt, 4 nuts and rubber pad for easy application in the field eliminating the removal of the nuts from the u-bolt before applying to the piping therefore eliminating unneeded labor time. When the AssureaKote™ is coupled with the AssureaPad™, a special blended thermal plastic half round or round pad, you can reduce the possibility of crevice corrosion or water formation under the pipe therefore giving the secure feeling that your piping is protected.
TECHNICAL SPECIFICATIONS

 

Properties

Value

Standard

 

Physical

 

 

 

Tensile Strength

2900 psi min. (19.9N/mm2)

ASTM D638

 

Ultimate Elongation

350% min.

ASTM D638

 

Density

1.24 +or- .2 gm/cm3

ASTM D792

 

Durometer

92+/-2 Shore A / 36+/-2 Shore D

ASTM D2240

 

Tear Strength

470 pli min.

ASTM D638

 

Water Absorption

0.236% Average / 0.264% Max

ASTM D570-98

 

Thermal

 

 

 

Heat Age

120ºC for 500 Hours No Cracking

ASTM D2671

 

Aged Tensile

3639 psi (25 N/mm2)

ASTM D638

 

Aged Elongation

300%

ASTM D638

 

Low Temperature Flexibility

4 Hours @ -40ºC No Cracking4 Hours @ -40ºC No Cracking

ASTM 2671-13

 

Electrical

 

 

 

Dielectric Strength

490 V/mil min. (19 KV/mm min.)

ASTM D149

 

Volume Resistivity

5.55 x 10 x 10 Ohm *cm

ASTM D257-14

 

Dielectric Constant

0.72728 Average @ 20 Hz

ASTM D150-11

 

 

0.08100 Average @ 500 Hz

ASTM D150-11

 
| | | | | | | | |
| --- | --- | --- | --- | --- | --- | --- | --- |
| Nominal Pipe Size | Bolt Stock OD | U-Bolt Height "A" | Thread Length "B" | Inside Gap "C" | Leg Center "D" | Box Quantity |   |
| 1″ | 1/4″ | 3 7/16″ | 2 3/8″ | 1 3/8″ | 1 5/8″ | 100 p/Box |   |
| 1″ | 3/8″ | 3 7/16″ | 2 3/8″ | 1 3/8″ | 1 3/4″ | 100 p/Box |   |
| 1-1/2″ | 3/8″ | 4″ | 2 1/2″ | 2″ | 2 3/8″ | 100 p/Box |   |
| 2″ | 3/8″ | 4 1/2″ | 2 1/2″ | 2 7/16″ | 2 13/16″ | 100 p/Box |   |
| 3″ | 1/2″ | 5 13/16″ | 3″ | 3 9/16″ | 4 1/16″ | 50 p/Box |   |
| 4″ | 1/2″ | 6 13/16″ | 3″ | 4 9/16″ | 5 1/16″ | 50 p/Box |   |
| 6″ | 5/8″ | 9 1/2″ | 3 3/4″ | 6 3/4″ | 7 3/8″ | 20 p/Box |   |
| 8″ | 5/8″ | 11 1/2″ | 3 3/4″ | 8 3/4″ | 9 3/8″ | 15 p/Box |   |
| 10″ | 3/4″ | 13 13/16″ | 4″ | 10 7/8″ | 11 5/8″ | 15 p/Box |   |
| 12″ | 7/8″ | 16 1/16″ | 4 1/4″ | 12 7/8″ | 13 3/4″ | 10 p/Box |   |
| 14″ | 7/8″ | 17 5/16″ | 4 1/4″ | 14 1/8″ | 15″ | Available On Request |   |
| 16″ | 7/8″ | 19 5/16″ | 4 1/4″ | 14 1/8″ | 17″ | Available On Request |   |
| 18″ | 1″ | 21 11/16″ | 4 3/4″ | 18 1/8″ | 19 1/8″ | Available On Request |   |
| 20″ | 1″ | 23 11/16″ | 4 3/4″ | 20 1/8″ | 21 1/8″ | Available On Request |   |
| 24″ | 1″ | 27 11/16″ | 4 3/4″ | 24 1/8″ | 25 1/8″ | Available On Request |   |
| 30″ | 1″ | 33 11/16″ | 4 3/4″ | 30 1/8″ | 31 1/8″ | Available On Request |   |
| 36″ | 1″ | 39 11/16″ | 4 3/4″ | 36 1/8″ | 37 1/8″ | Available On Request |   |