Assureaseal™ SSC (Stainless Steel) Series Critical Service Sealing Gasket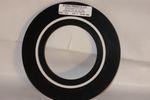 The Assureaseal™ SSC is designed for Severe Service Applications. The Gasket is suitable for sealing pipeline flanges with flow media of Hydrocarbon based media like gas, natural gas & oiL This Gasket Material can also withstand most low concentrations of chemical based media with a temperature range of (Min -200°F) to (Max 350°F/180°C).
The Step-Ko Assureaseal™ SSC gasket is manufactured from a GRE Epoxy Glass Laminate, that is permanently, fused to a 316 Stainless Steel core. This material offers high compression strength for positive seal ability in a harsh environment, while maintaining its electrical isolation. This severe service gasket incorporates a Spring Energized Teflon SeaL The Assureaseal™ SSC is suitable in all services including ANSI 2500# thru API 10,000# classes. The Gasket can be purchased alone for standard service gaskets, or as a complete kit which includes: the Isolation Sleeve's, Washers, & steel backup washers. The Assureaseal™ SSC also requires less bolt stress to seal the Teflon Spring Energized seal element.
High Strength laminate material resists failure due to excessive compression from over torquing
Stops galvanic corrosion in dissimilar metal flanges
Perfect for mating mismatched RTJ with raised-faced flanges
Pressure energized seals provide extreme confidence in sealing, preventing costly leaks
Managing severe service conditions including flange vibration, temperature & pressure fluctuations

Seals and isolates all pressure ratings through ANSI 2500 class and API 15,000
Severe service applications

H2S service

High pressure flanges

Mating dissimilar flange faces, SSC can seal raised faced, flat face, slip on flanges & ring joint

Isolation between dissimilar metals to prevent galvanic corrosion

Eliminates the worry of sealing flanges where there is severe vibration/cavitations

Cathodic protection in conjunction with total flange isolation